Summer is in full swing but in true Brionna fashion I'm thinking ahead. The only thing not dreadful about the end of the summer is the juicy fall television we have to look forward to, and of course my birthday which is in October! If you are a true television junky like me the one show that pops in your head before any other is more likely than not Scandal. The political drama is by far one of, if not the best thing, to hit primetime since I don't even know when. Luckily for us though, ABC is producing more quality television just like this.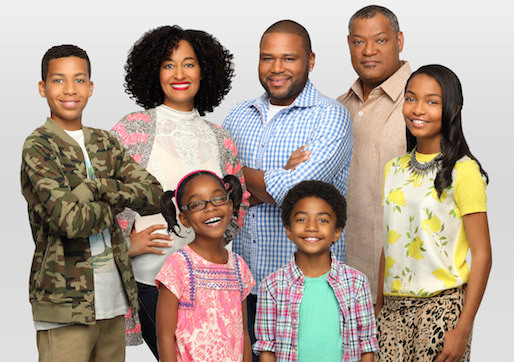 Being added to the fall television lineup is comedic family series 'Blackish' starring some names we all know and love. Andre and Rainbow Johnson played by Tracee Ellis Ross and Anthony Anderson struggle to keep their four environment adapted kids grounded in the African-American culture growing up in a mostly-white
affluent
neighborhood with the help of Andre's old-school dad played by Laurence Fishburne.
Cinema Blend
reports that the behind the scene creative contributions come from members that are also behind a successful sitcoms such as "The Game". Here's a clip from ABC's new comedy.
I'm thinking comedy powerhouse Anthony Anderson, veteran actor Laurence Fishburne, and the beautiful and oh-so talented Tracee Ellis Ross together can only mean one thing – good television! Let's not forget the kids who will probably take the show to a higher level of comedy. I'm not too familiar with any of the four Johnson children - Yara Shahidi (Zoey), Miles Brown (Jack), Marsai Martin (Diane), or Marcus Scribner (Andre Jr.) however I'm confident that with the lead of the elder actors the cast will pull together and deliver us the fun loving, comedic, and heartwarming programming most of us like to see. Perhaps it will give us the family dynamic of The Cosby Show, the quick witted comedy of Girlfriends and the modern feel of Modern Family.